Come arrivare
How to reach us

Il convegno si terrà presso l'Aula Magna Edificio H3 dell'Università degli Studi di Trieste.
The conference will be held at the Aula Magna Building H3 of the Università degli Studi di Trieste.
via Valerio 6/4
34127 Trieste, Italia
Google Maps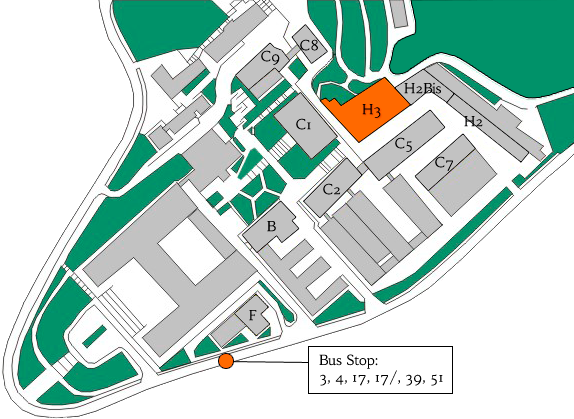 Fermata Università: linee 3 - 4 - 17 - 17/ - 39 - 51.
per orari: triestetrasporti.it
Bus stop "Università": 3 - 4 - 17 - 17/ - 39 - 51.
timetables: triestetrasporti.it
Stazione "Trieste Centrale" - dalla stazione si possono prendere diversi autobus per l'Università.
trenitalia.com
"Trieste Centrale" Train Station - from Piazza Libertà in front of the train station you will find various busses which will take you to the venue.
trenitalia.com
Gli aeroporti più vicini sono TRS, TSF, LJU, VCE.
The closest airports are TRS, TSF, LJU, VCE.
Servizio Taxi a Trieste è gestito da un unico fornitore, potete richiedere un taxi chiamando: +39 040 307730.
radiotaxitrieste.it.
Taxi service in Trieste; you can request a taxi calling: +39 040 307730.
radiotaxitrieste.it.
dall'Autostrada A4 in direzione Trieste: continua sulla E70 fino all'uscita Basovizza-Padriciano ed imbocca la SS202, prendi la strada per Basovizza e gira sulla SS14, la SS14 diventa via Alfonso Valerio sulla quale troverete l'Università.
dalla Stazione ferroviaria "Trieste Centrale"; prendi via Flavio Gioia, gira in via Milano, prosegui in via Coroneo, gira a destra su via Fabio Severo e nuovamente a destra in via Alfonso Valerio.
From the A4 highway: continue on the E70 until the Basovizza-Padriciano exit. Take the SS202 towards Basovizza and turn off onto the SS14, which will take you straight onto via Alfonso Valerio where the University is.
From the "Trieste Centrale" train station; take via Flavio Gioia, turn onto via Milano, continue onto via Coroneo, turn right onto via Fabio Severo and right once again onto via Alfonso Valerio.